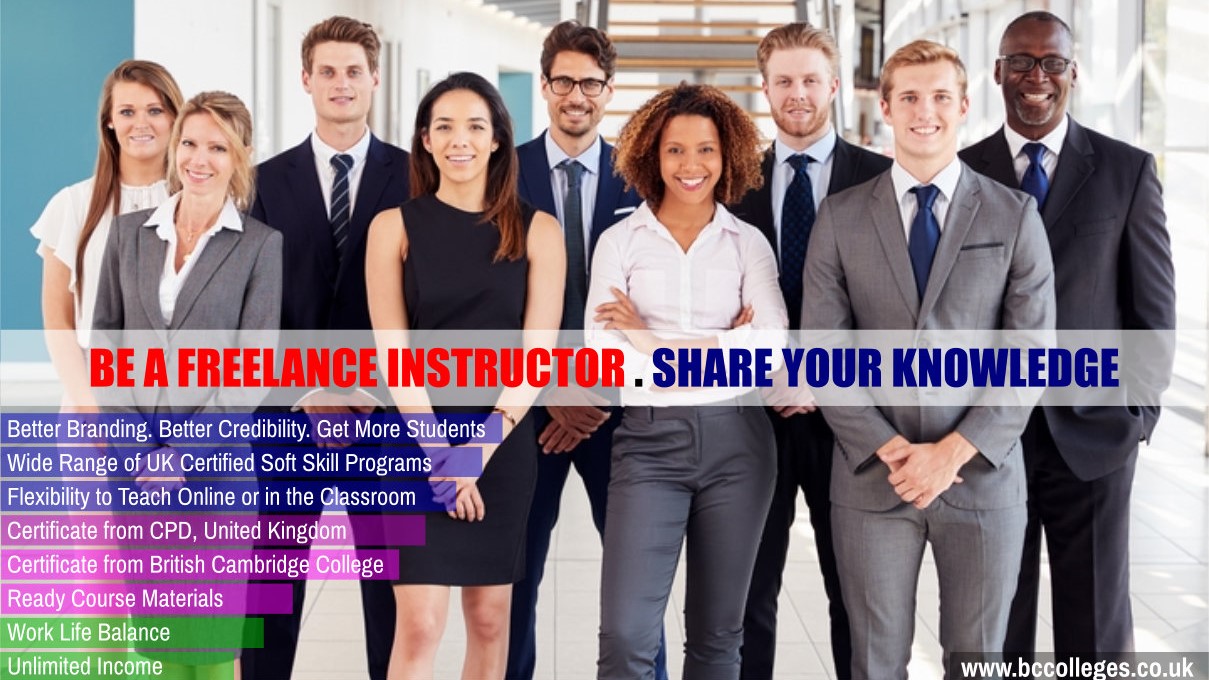 Our Mission. Our mission is to empower millions of people across the world by providing education and training that will create more employment opportunities and develop more entrepreneurship skills. We do so by offering soft-skills that are relevant to the current market demands, qualified trainers with years of industry experience, course fees that are affordable to all, and quality programs that are certified by CPD (Continuing Professional Development), United Kingdom.

Our Team. Our team is comprised of professors, lecturers, medical doctors, lawyers, accountants, and graduates from top universities in Asia, the UK, and the USA. We have trained thousands of students, professionals, and senior executives from various sectors and industries for the past decade. We are expanding our markets around the world with the launch of our new range of soft skill programs accredited by CPD, United Kingdom.

Our Group. BCC is part of the SERVEBANK Group. SERVEBANK and its partners are involved in Education, Food Manufacturing, Franchise, Healthcare, Investment and, Telemedicine with offices and partners located in Asia, Australia, New Zealand, USA, and the UK, with over 1000 distribution channels across the region.

Online Education Market
The online education market is currently worth US$150 Billion and expected to reach over $300 Billion in the next five years as government, companies, and educational institutions around the world are focusing on providing online education.
Why partner with us?
There are millions of instructors worldwide. Most are offering similar courses at very low fees in order to secure their students. We provide you with many advantages that will enable you to stand above the rest, secure more students, and earn more income.

Our Advantages

1. Most Affordable UK Certified Soft Skill Programs
We provide soft-skill programs that are certified by CPD, United Kingdom, at the most affordable prices.
2. Certificates from CPD, United Kingdom
Students will receive a Certificate of Completion from CPD, United Kingdom upon completion of their studies.

3. Certificates from British Cambridge College
Students will receive a Certificate of Completion from British Cambridge College upon completion of their studies.

4. Quality Programs and Qualified Trainers
Students will receive quality programs and quality training from qualified trainers.
5. Flexible Study Methods
Students can study online, offline (printed materials), or classroom-based.

6. Wide Range of Soft Skill Programs
We offer a wide range of programs for individuals, companies, associations, non-profits, etc.

Our UK Accredited Soft Skill Programs
Advocacy Programs
BCC offers a wide range of advocacy-related soft-skills for those interested in social and environmental issues. The certificates may provide recognition for those who are strong advocates of social and environmental issues. There are no prior work experiences required to study for any of these courses.

Programs Available
Accident Investigation / Health & Safety / Organic Farming / Renewable Energy / Social Enterprise etc.
Animal Care & Protection / Child Care & Protection / Community Service / Environmental Protection / Human Rights / Psychological Safety at Work / Wellness (In-Process)
Business Programs
BCC offers a wide range of business-related soft-skills for those interested in improving their soft-skills, secure promotion opportunities, and assist millions of job seekers to enhance their employment opportunities. There are no prior experiences required to study for any of these courses
Programs Available
Art of Negotiation / Brainstorming / Business Networking / Customer Service / Direct Marketing / Effective Communication Skills / Emotional Intelligence / Essential Management Skills / Leadership Excellence / Mentor Training / NLP An Introduction / Practical Sales Skills / Presentation Skills / Project Management / Recruitment Skills / Report Writing / Root Cause Analysis / Strategic Training / Talent Management / Team Building / Telesales Skills / Train the Trainer etc.

Whom are we looking for?
We take our reputation and the welfare of our students very seriously.
We welcome instructors from all countries, above legal age, with relevant qualifications and work experience.
You must have a minimum of 2-years training and work experience related to the programs you wish to conduct.
You must be able to speak and pronounce your words in clear English which can be fully understood by your students.

How much can I earn as an Instructor?

(1) Your Potential Income as an Instructor
Fees / Student / Course is US$99 All In. You will receive $30 / Student / Course.
The maximum number of students per course/webinar should not exceed 100.
Each course requires 8 hours of study (3 hours webinar and 5 hours of self-study by the student)

(1) 100 Students x $30 / student = $3,000
(2) 200 Students x $30 / student = $6,000
(3) 500 Students x $30 / student = $15,000

What do you do as an Instructor?

You will provide the followings to your students:
(1) 3-hour webinar for your students

(2) Prepare your study materials for your students
based on the courses and course contents below:
Advocacy Courses | Business Courses

(3) 1-month study support by email to your students.
(4) Upload your training videos on Youtube for your students (optional).
(5) You shall send the list of your students to us.
(6) Your student shall register directly with us HERE

We will provide the followings to your students:
(1) Access to our Online Test Site (valid for 30 days)
(2) Certificate from CPD, the United Kingdom (after taking the test).
(3) Certificate from British Cambridge College (after taking the test).

How do you start? Just 3 Simple Steps

Step 1 - Register as our Instructor
Apply HERE | We will reply to you within 5 working days.

Step 2 - Promote your course
The FREE METHODS of securing your students:
Business Associations . Companies . Cooperatives . Non-Profits . Professional Associations . Social Clubs etc.

Colleagues . Direct Marketers . Friends . Families . HR Managers . Instructors of People You Know . Telemarketers etc.
The PAID METHODS of securing your students:
Step 3 - Conduct your course.
You can conduct your course from 1 student to 100 students.
Kindly notify the courses and the dates you wish to start your course.
The student can take their test online once they have completed their course with you.

How do I receive my training fees?
We will notify you when a student has enrolled and paid for your course.
You will receive your training fees within 7 days from the date the student has taken their test.

Fees due to you will be sent to your PayPal or Bank Account (less Paypal or Bank Transfer Fees).
We will auto-transfer the payment to you once the total amount due to you has reached $300.00


Education is the most powerful tool to empower people, eradicate poverty, and create more employment opportunities.
Share your knowledge and expertise. Be part of our mission to educate, empower, and empower millions across the world today.
Hope to connect with you soon. Blessings from everyone at British Cambridge College (BCC).
---
Procedures after you have applied as our Instructors
Note: Option 1 will be replaced by Option 2 from 1st. November 2020.
Process & Profile
1. We will review your Application
2. We will request for a copy of your ID or Drivers License
3. We will display your profile on our website if your application is accepted.
4. Your profile will be displayed on our website based on our standard format.
5. We will remove your profile if you did not register any students within the next 3 months
Option 1 - Promote Your Courses
You can use your own banner or brochure to promote your courses.




You shall send us a copy of your banner for our review and approval.




For the safety of the students and the instructors, the banner or brochure must have our logo and website address.




The students can contact you directly.


You will send us the full list of your students.so that we can register them as your students.
You shall NOT at any time collect the course fees from any students. You will be terminated if you do so.


You will inform the students to directly register below.




You shall inform the students to register and pay to us directly through the form below.


https://www.bccolleges.co.uk/register/softskills.html
Option 2 - Promote Your Courses - ready by 1st November 2020 onwards.
You will apply as our Affiliate and choose the banners you want to use to secure your students.

The banner has your code. If a student clicks on your banner and register; the system will identify
that the registration originates

from your banner and that student will be registered under you.

If the student decides to do a self-study through your banner, you will still receive a commission of $10 / student / course.